Dentzel Menagerie Carousel
The historic Dentzel Menagerie Carousel was built by the G.A. Dentzel Co. of Philadelphia and installed at its present site in 1905. It has 52 hand-carved animals including horses, mules, ostriches and a tiger, as well as two chariots.
The carousel opens for the season on Memorial Day weekend.
Photograph and background courtesy of City of Rochester Communication Bureau.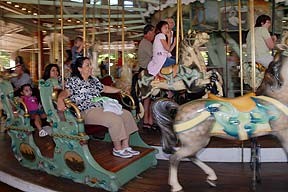 Photograph from City of Rochester Communications Bureau