Special Events
Watch this page for special events throughout the year!
ALL IN MUSIC FEST 2021
Presented by ALL IN MUSIC and the Charlotte Community Assosciation, Inc.
Sunday, August 22, 2021
75 Stutson Street
1 – 5 pm – $10 Includes one raffle ticket, food, and multiple bands. Festival Lawn chairs welcome. Basket raffles available.
6 – 8pm – $20. Indoors on the Main stage – Jimmie Highsmith
All proceeds benefit ALL IN Music Inc. and Charlotte Community Association, Inc.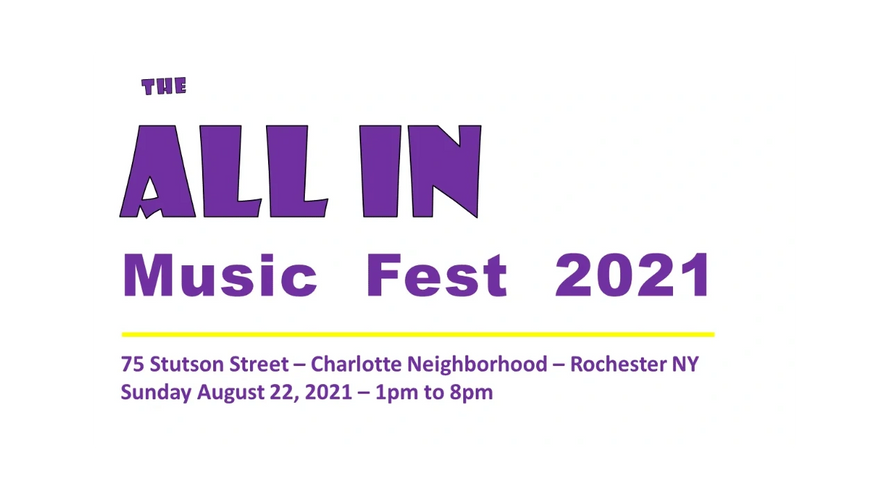 37

 th

 Annual Lakeside Winterfest and Polar Plunge Return to Port and Beach, February 8-9, 2020
New Location! Roger Robach Community Center Tent
Fireworks return over the River at 6:15 PM!
The Lakeside Winterfest and the Polar Plunge will be held at Ontario Beach Park the weekend of February 8-9, 2020.
Saturday, February 8th, 12:00 Noon Kick Off
Chilly Chili Challenge
Lake Ontario Wine and Craft Beer Festival
Food Vendors
Music by Neil Van Doon Band
Ice Carving Demonstration
Snow Sculpture Contest – Prizes in 3 categories – youth 12 and under, adults and
Other activities include horse drawn wagon rides, dog sled demos, fun games and contests organized by the City of Rochester, Rec On the Move staff and a" fat" tire winter fun bike ride (some bikes will be available for loan)
These events are organized by the all-volunteer Ontario Beach Park Program Committee and sponsored by the City of Rochester, Monroe County, Merchants Charlotte Community Association, CITY Newspaper and Wegmans. Go to www.Ontariobeachentertainment.org or www.Cityofrochester.gov for schedule updates and details.
Polar Plunge On Sunday, Feb.9th  – Registration from 9-11:30 am
Free off-site parking and shuttle service is available for all plungers and spectators. Shuttles from the Greece Arcadia High School parking lot, 120 Island Cottage Rd. to the Polar Plunge will be available from 8:30 a.m. to 2 p.m. (SUNDAY ONLY). For more information or to pre-register, visit www.polarplunge.net, or call (585) 586-7400 ext. 109.